WHAT WE HAVE DONE

>020 3794 9688
Milners Carpets & Flooring
We were more than happy to redesign Milner's new website in line with their guidance, and alongside their marketing company.  Highlighting their 3 main areas of trade and keeping it simple for users.
CD Rentals
After doing such a good job on CD Waste's website re-design and rebuild, the group had no problem getting us back to do the same of for their CD Rentals arm of the business.  The site is once again built on a customised WordPress CMS, but also has a deeper site map listing products in… [Read more]
Ges Ray – Speaking in Public…
What a delightful person Ges Ray is.  And we were equally delighted that he chose us to carry out his re-brand and new website launch.  The site build around his needs and capabilities has a fairly comprehensive but simple CMS, and is fully responsive across Tablets and Mobile Phones inline with Google's requirements.  And in… [Read more]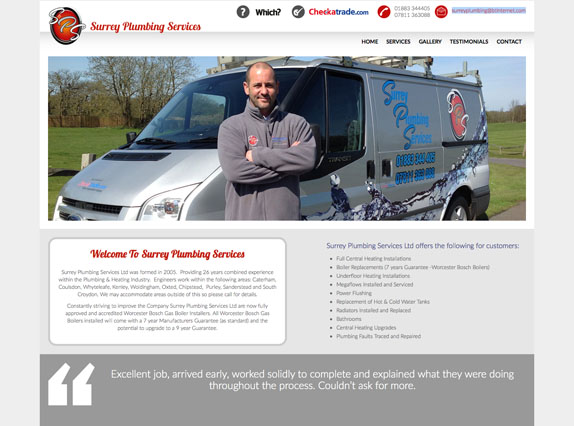 Surrey Plumbing Services Ltd.
Surrey Plumbing Services realised after a decade in the business that a website was no longer a desirable, but a necessity.  So after a recommendation from a happy customer, they approached us and we got straight to work.  We designed and built a great CMS website, built on the ever popular WordPress platform with a… [Read more]
Turnpower Services Ltd.
We were pleased to be approached by Turnpower Services to give the website we originally built them a new look.  The site originally built on a custom WordPress platform, proved to have a simple, and cheap solution in which we created a new theme for the site and simply switched it over, removing the need… [Read more]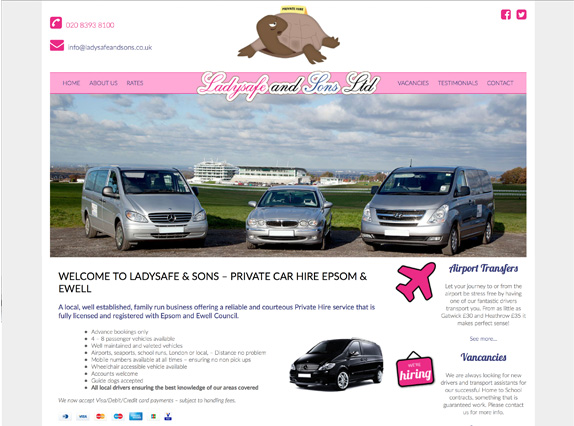 Ladysafe & Sons Ltd
We were proud to design and build a new website for local private car hire firm, Ladysafe and Sons Ltd.  Built responsively for optimisation on handheld devices such as tablets and mobile phones, on a WordPress platform for full admin control.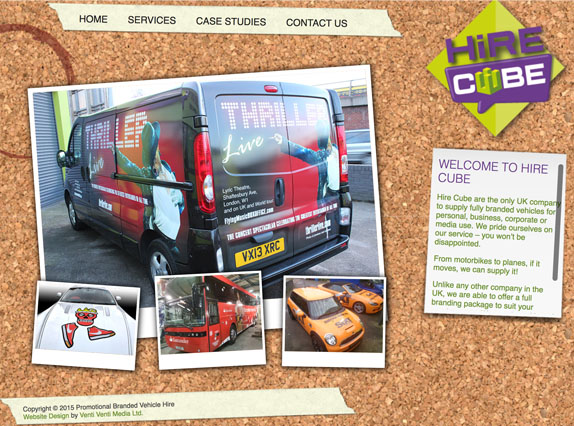 Hire Cube
Branded vehicle hire, Hire Cube, wanted something a little different with their new site.  The site which was built quickly as an interim measure, is built on a WordPress platform and is made to represent a notice board.  The images in the gallery gain a scattered effect with the client being able to select each… [Read more]
LMC Photography by Massimo Crisafi
We were happy to create a small brochure site for new photography talent, Massimo Crisafi. Massimo came to us (probably due to our Italian name!) and we were able to take his taste and create a sharp WordPress based site which allows him to control his site and his gallery.  The gallery, due to the… [Read more]
WeCare4Air
When WeCare4Air first came to us they had previously experienced a lot of difficulty with another agency trying to tackle this project, so were naturally a bit apprehensive.  The project was extremely in-depth and required a lot of planning, and handwork before we even started on the build.  The site required data to be captured… [Read more]
From This Moment Bridal Studios
As part of their rebrand and general facelift, we spent hours with the lovely girls at From This Moment Bridal Studios getting the right look for their new website, something classy, trendy and beautiful.  The site is built on a WordPress platform allowing them to have full control of the site and the dresses on… [Read more]