Graphic Design

>020 3794 9688
Air Action
New trampoline park company, Air Action, came to us in need of a brand image which will stand the test of time, and represent exactly what the company stands for.
Tots with Love
A simple and straight forward brief for kids clothing company Tots with Love, allowed us to hit the nail on the head with this brand design.
BP Marketing
Investment company, BP Marketing, had us in for a chat about some website development work, but during the meeting after hearing more about us, we offered them a design consultancy service and quickly provided them with a Brand Concept they loved.  Creating a new font as well as a brand image, we're really hitting the… [Read more]
Charlie's Angels Foundation
Ges Ray – Speaking in Public
After getting to know a bit about Ges, a direction for his logo seemed to stand out and slap us in the face.  Speaking with confidence and gesturing with his hands throughout this simple yet effective design was just what the doctor ordered
LMC Photography by Massimo Crisafi
As we got to work on designing a new website for Massimo Crisafi, we were happy to design a quick logo / brand image for him to give him identification.  We then used this and designed and printed him some business cards to use at his exhibitions.
Block Risk Management
This was a great and interesting project for us. Block Risk Management had a very specific brief for their new website, in which we had to create a 3D house block with certain variations.  These variations show the roof exposed, the wall exposed, the garage door open, the front door open, the fire escape open… [Read more]
The Best of Epsom & Ewell
Working alongside buy local champions, The Best of Epsom & Ewell, we are often providing Graphical services to Nigel and his team, on this instance we designed their new review cards which are distributed amongst all the "Best of" members.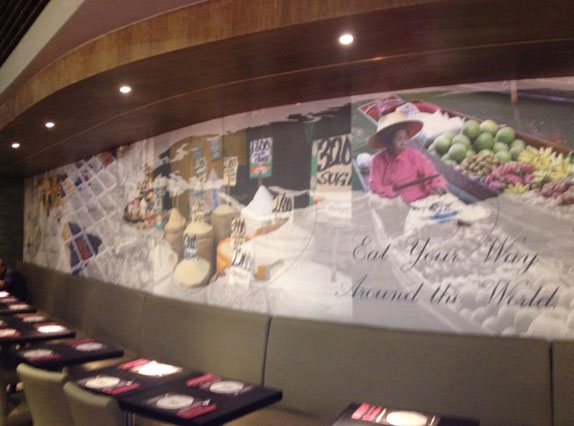 JRC Global Buffet Ilford
A blank interior wall of some 19 metres required a graphic to bring some colour and life to the area of seating.  Using relevant photos of the heritage of the world cuisines on offer, we created a collage of black and white images with a world map shape exposing the colour parts of the images…. [Read more]
JRC Global Buffet Ilford
During the construction of the 500+ seating restaurant, JRC Global Buffet required a simple yet elegant solution to blocking out the windows and advertising the upcoming new venue. With artwork which spans 60 metres and over 30 window panes we worked to a tight schedule and space tolerance.